The Association of Dental Groups responds to consultations on behalf of its members and publishes briefings on the challenges facing the profession. Some of our recent publications, articles and consultation responses are below.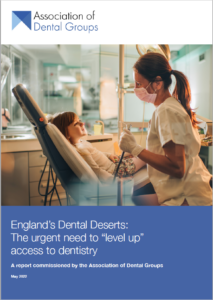 In May the ADG published a new report highlighting the recruitment crisis in NHS dentistry and the parts of England at most risk of becoming
Read More »
Neil Carmichael is the former Conservative MP for Stroud 2010–2017 and the Executive Chair of the Association of Dental Groups, the trade association representing dental
Read More »
Further information and updates are available by following our twitter feed.